Three Day QCT Mountain Bike Package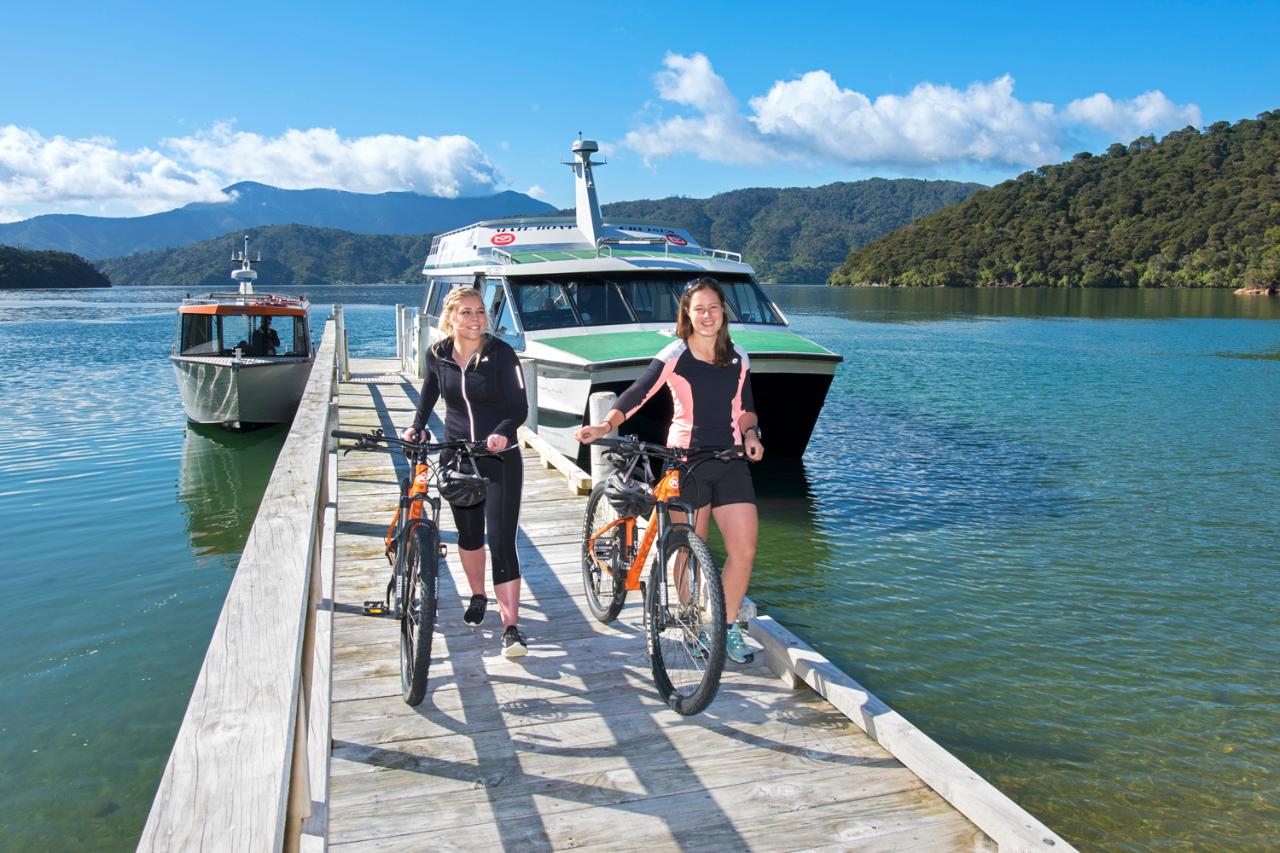 기간: 72 시 (대략)
위치: Picton, Marlborough
상품 코드: PKU5AC
3 Day Bike Package Itinerary

Ship Cove to Anakiwa 71km
Day 1: Ship Cove to Camp Bay (Approx. 4-5 hours/26km)
Transfer with Beahcomber Cruises from Picton to Ship Cove departing at
8:00am* or 9:00am. This scenic & historic reserve was a favourite anchorage
for Captain Cook during his explorations in the 1770s. Your ride takes you from
Ship Cove around Endeavour Inlet where the track is mainly coastal through
regenerating native bush. Pause at the head of the bay to learn more about
antimony & the mining industry that thrived there in the 1880s.
Accommodation options: DOC Camp Bay, Punga Cove Resort, Mahana Lodge, Madsen's
Campsite
Day 2: Camp Bay to Torea Saddle / Portage
(Approx. 4-5 hours/22.5km)
This is a challenging but very rewarding bike ride on the ridgeline
between Punga Cove & Torea Saddle near Portage. Truly grand vistas abound
round every corner. For those that wish an easier option, choose to ride the
Kenepuru Road between Camp Bay/Punga Cove and Portage Bay.
Accommodation options: Camp at DOC Cowshed campsite, Treetops
Backpackers, The Portage Resort.
Day 3: Torea Saddle / Portage to Anakiwa (Approx. 4 hours/20.5km)
Farewell Portage and ascend to the ridgeline once again, enjoying
stunning views. Open farmland and a grand native bush section to finish is a
fitting finale. Today you return by boat from the Outward Bound Wharf and
Beachcomber Cruises service back to Picton to compete your journey.
The boat departs sharp at 3.30pm.
3 Day Bike Package inclusions
·
3 Day mountain bike hire, helmet and repair kit
·
Water transport to and from track
·
Luggage transfers to overnight accommodation
·
QCTLC Pass
Departure times: *8:00am option from 1st October – 30th
April and 9.00am year round
Please note the Queen Charlotte Track is closed to Mountain bikes from 1st
Dec – 28th Feb