Ultimate Marlborough Day Out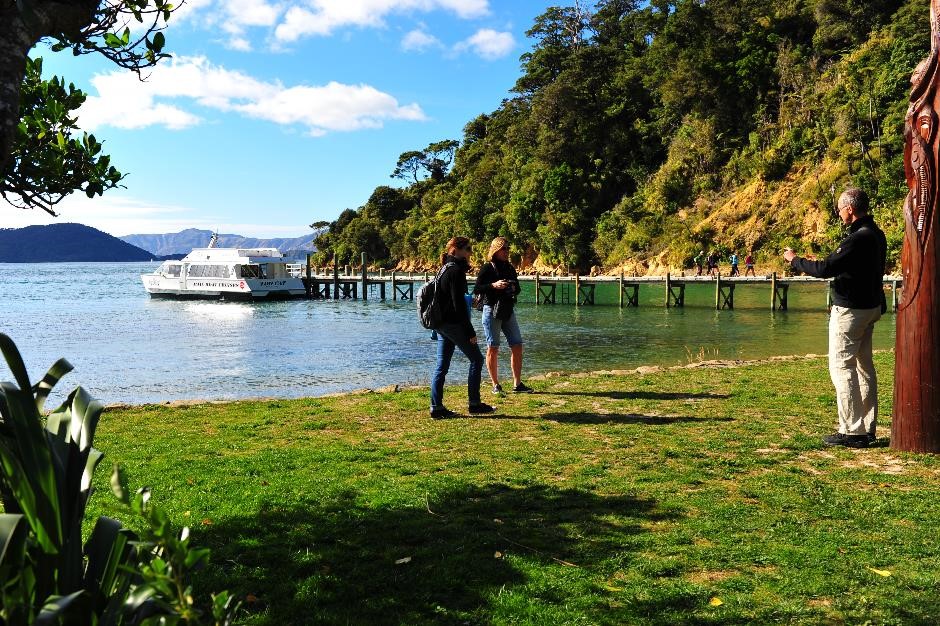 Duration: 6 Hours (approx.)
Location: Picton, Marlborough
Product code: PL5AXP
Covid 19 announcement:
Please note that Face Masks are required on all Beachcomber
Cruises and Picton Water Taxis Vessels, unless proof of valid exemption is
presented upon check in.
Thank you for your co operation




Ultimate Marlborough Day Out
Beachcomber Cruises in conjunction with Marlborough Wine Tours invites you to join us for a great day out. After picking you up from your accommodation we will start your day out with a cruise on the Queen Charlotte Sounds in the morning, then back on shore for a lunch stop at a winery and then a relaxing afternoon of wine tasting through the wine region
The cruise departs at 9:00am on board the catamaran MV Tiri Cat. Cruise from Picton up through the Queen Charlotte Sound to historical Ship Cove. Along the way your skipper will provide a commentary on the surrounds, history and the wildlife be it bird, fish or mammal!
One of the highlights of the morning is a stopover at Ship Cove, named by Captain James Cook when his ship The Endeavour anchored there to replenish supplies of food, water and wood in 1770. Take the opportunity to dabble in the creek where Captain Cook made home brew for his crew and share the beach with the resident wildlife.
On re-joining your vessel cruise via Endeavour Inlet back to Picton returning around 12.30 where you will be met by your wine tour guide who will take for a single course lunch, with a glass of wine of your choice at one of Marlborough's boutique wineries.
After lunch your guide will take you around for a relaxing and informative afternoon of wine tasting. This is a great opportunity to try some different wines from The Famous Marlborough, Sauvignon Blanc, to Aromatic wines and Pinot Noirs.
We finish your day off with a visit to the boutique chocolate factory before returning you to your accommodation.
What's included?
Ship Cove Cruise with Beachcomber Cruises
Single course lunch and glass of wine at Saint Clair Vineyard Kitchen
Wine tasting at 2-3 Wineries with Marlborough Wine Tours
Accommodation Pick up and Drop Off

(Please note for Picton accommodation you may be required to make your own way to the Beachcomber office for check in. The Wine Tour company will drop you off at your accommodation at the end of the day)
Drop off Picton $299.00 per adult
Pick up / Drop off from Blenheim $320.00 per adult
*Please note that a minimum of 2 persons is required for this tour to operate.