(3) Great Track and Pack Pass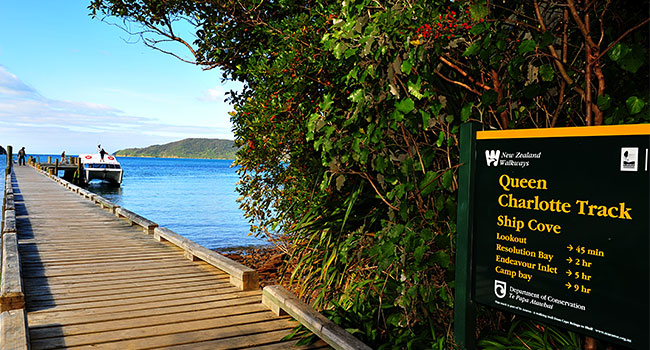 Duration: 1 Hours (approx.)
Location: Picton
Product code: GTP
*Please note we are closed on 25th December for Christmas Day. There are no transfers of luggage or passengers available on this day**
Departure Time from Picton to Ship Cove

- 8:00am / 1st October – 30th April
- 9:00am / year-round
- 1:30pm / please enquire
Departure Time from Anakiwa to Picton
- 3:30pm / year-round
The Great Track and Pack Pass includes the following:

A drop-off at Ship Cove on one of our 3 scheduled boats, 8:00am (summer only), 9:00am or 1:30pm (summer only 2 HOURS TRAVEL) - or alternative location
A pick-up from Anakiwa at 3:30pm - or alternative location
Excludes: Accommodation, QCTLC Pass, Mountain Bike transportation ($5 one-way/$10 return), Motuara Island stop on the 8am departure for an additional $5 pp, anything not specified above. Additional inter track transfers can be purchased by arrangement

We do offer a 10% discount for Top Ten Card, BBH, YHA and Gold Card Holders. Please contact our office on office@mailboat.co.nz or 03 573 6175 to make a booking - do not book online as you will not receive the discount.

Luggage Transfers:
We do our best to keep your bags safe and dry at all times whilst aboard our vessels and during transfers however we cannot take responsibility for items being wet, damaged or missing once it leaves our hands. Please do not tie items such as pots, pans, shoes, tents, walking poles ect on the outside of your bag. These items can easily fall off and get lost or can cause damage to other bags.
We do not transport luggage South to North.
We will provide you with luggage labels for your transported bags.
MAX Weight 20kg per item
We suggest a waterproof pack liner and cover in the case of sea spray or heavy rain.
**Please advise us in the Accommodation or Comment section of the booking form where you will be staying each night**


Most accommodations and campsites have their
own jetties/wharfs where we can drop off and pick up your bag. When you check in our reservations staff will let you know exactly
where to collect your bag from.
We can transport bags to:
Resolution Bay Cabins (Not available on 1:30pm departure)
Tawa Cove Cabins
Blue Water Lodge
Furneaux Lodge
Punga Cove Resort
Mahana Lodge
Ngahere Hou (Torea Jetty)
DOC Camp Bay Campsite
The Bay of Many Coves Resort
The Portage Resort Hotel (Dropped at Torea bay, the staff meet our boat and drive your bags to the accommodation)
DOC Cowshed Bay Campsite (dropped at Torea Bay Jetty 40mins return walk away)
Treetops Portage (Dropped at Torea bay, the staff meet our boat and drive your bags to the accommodation)
Mistletoe Bay Eco Village
Te Mahia (Dropped at Waterfall bay, the staff at Te Mahia meet our boat and drive your bags to the accommodation)
Lochmara Lodge
Anakiwa Jetty (we do not take bags directly to Anakiwa accommodation, please arrange this with your accommodation provider or be prepared to collect your bag from the Anakiwa Jetty)
We can't transport bags to:
DOC Schoolhouse Bay (you can collect your bags from Resolution Bay Cabins, private land, 1km away for a fee of $5 per bag per day, not available on 1:30pm departure)
DOC Bay of Many Coves Shelter
DOC Black Rock Shelter
Davies Bay Campsite
Important Information:
The track is usually completed in four days, though it can be completed at your own leisure, there is no time limit

We recommend that the track is walked or biked from north to south
Your accommodation must be booked before departing Picton
Please be respectful to other passengers, walkers and campers
Take all of your rubbish away with you, use designated camping and toilet spots/facilities
Follow the DOC instructions at all times
We suggest every walker is prepared with a good water and food supply, warm clothing, sun protection suitable shoes and an emergency action plan
The boat will not wait for you! Please be on time for check in and your track departure
We will not refund the return part of your ticket if you choose to find another way back to Picton
PLEASE READ THE TERMS AND CONDITIONS OF THE BEACHCOMBER CRUISES GREAT TRACK AND PACK PASS BEFORE PURCHASING